Linkin Park
Meteora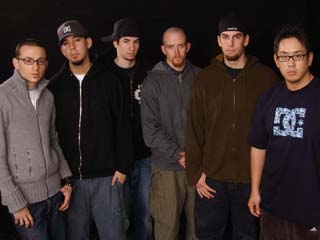 The media-coined nu metal phenomenon otherwise known as Linkin Park is back again, four years after their debut, Hybrid Theory, with Meteora. Miserable fans everywhere should be glad for one thing: Meteora sticks with what's worked before, and manipulates material a little to keep fans hooked. Barely clocking in at 37 minutes, Meteora is filled with catchy tunes that don't typically run past three minutes.
First single "Somewhere I Belong" is commercial Linkin Park for the masses. It's definitely not the guys at their best, but it still works well to get the hysteria going, like what "One Step Closer" did for its predecessor. "Hit the Floor" is nearly three minutes of heavy-hitting beats, with the right lyrics that speak for everyone (There are so many people like me/Put so much trust in all your lies/So concerned with what you think/To just say what we feel inside). The collaboration of vocals by Mike Shinoda and Chester Bennington is at top form during the chorus of this track. Using a fast-paced click track, "Faint" is probably as loud and punchy as Linkin Park gets, offering some of the band's best work. Bennington is unavoidable with this high-charged scream: Hear me out now/You're gonna listen to me/Like it or not.
"Breaking the Habit" is an interesting change in pace (which only took six years to create) in which the guys seem to be taking the blame for their actions. "Breaking the Habit" reveals a much more vulnerable piece of mind: I don't want to be the one/The battles always choose/'Cause inside I realize/That I'm the one confused. "Nobody's Listening" comes off as the title of one of Korn's disillusioned kiddie rhymes. Instead it's the best work on Meteora, once again adding emphasis to LP's potential with Shinoda's hip hop roots (think Reanimation's "High Voltage"). Hidden bonus: this track is physical proof that Japanese pan flutes make some pretty cool instruments to freestyle with.
In capturing that same essence of Hybrid Theory, "Numb" closes Meteora in the respect that it's very inconclusive. Linkin Park is going to be around for a while, whether you like it or not.
Crystal
at
11/18/2004 01:49:00 PM